Approved Practitioners
Katerina Roberts – 07729 462 921
Angela Page – 07956 877 329
Reflexology is a non-intrusive complementary health therapy, based on the theory that different points on the feet, lower leg, hands, face or ears correspond with different areas of the body. Reflexologists work holistically with their clients and aim to work alongside allopathic healthcare to promote better health for their clients. Reflexology is a therapy which can be received by anyone at any age, from newborn babies to those receiving end of life care, and everyone in between. However, there may occasionally be times when it is not suitable to provide a treatment. The best advice we can give you is to give your local reflexologist a ring and ask!
Will reflexology help me?
Well trained reflexologists do not claim to cure, diagnose or prescribe. Reflexology is a very individual treatment which is tailored to you as a whole person, taking into account both physical and non-physical factors that might be affecting your wellbeing. Some people find it works for them – some don't. The best way to find out is to try it!
The theory is that reflexology helps the body to restore its balance naturally. Usually, after a treatment your tension may be reduced and you might feel relaxed. You might also notice yourself sleeping better and find your mood and sense of wellbeing improving. You may also find that other aspects improve too; however, this happens on an individual basis.
There have been some positive research projects carried out with reflexology; however, as yet, there is not a large enough body of evidence for us to make clinical claims of effectiveness.
With ever increasing levels of stress in everyday life, it is important for people to take more responsibility for their own healthcare needs. Reflexology may be one of the ways to mitigate the stresses of modern life.
Reflexology should not be used as an alternative to seeking medical advice.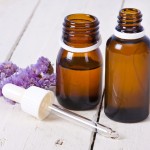 Aromatherapy oils often used in conjunction with aromatherapy and massage
Aromatherapy is the practice of using the natural oils extracted from flowers, bark, stems, leaves, roots or other parts of a plant to enhance psychological and physical well-being.The inhaled aroma from these "essential" oils is widely believed to stimulate brain function. Essential oils can also be absorbed through the skin, where they travel through the bloodstream and can promote whole-body healing. A form of alternative medicine, aromatherapy is gaining momentum. It is used for a variety of applications, including pain relief, mood enhancement and increased cognitive function.  There are a wide number of essential oils available, each with its own healing properties.